Colours have always stirred human emotions therefore considering colours while planning your digital marketing strategy isn't such a bad idea. White chalk was a precious tool in the hands of artists while gold from the very first civilizations reminded us of the sun.
Colours are definitely grabbing world wide attention especially for internet users. Since the beginning of the digital revolution, we have free access to any colour we can possibly think of, and more.
But do we really know what the essence of colour is? Are we sure there is an exact dictionary definition for it, or is it a bit more abstract than ordinarily defined things?
Before you launch your next social media campaign or design your next piece of content, landing page, website or logo, take a moment to think about the psychology of colour.
Colour sometimes has an effect on people's choices and emotions. Therefore, when trying to influence consumer behaviour, lets try to use everything we can in our arsenal to get the results we want.
Image Courtesy: demo.pushonltd
Consumer appetites for online content has only increased as web search and mobile use continue to rise. What is changing, however, is consumers' "tastes" for that content.
Today, many consumers want to learn by seeing — a trend that is leading marketers to shift their approach toward strategic graphics and imagery in their digital marketing plans.
Consumer attention has shifted from engaging with text-heavy content to more visually appealing, short-form content, including visual updates, stories, ads and videos.
Brands who can skillfully convey their messages by mixing these visual elements into their content recipe will be the ones winning with online searchers and customers.
Image Courtesy: i0.wp
Particularly interesting are the studies of the effect of colour on buyer behaviour. Hubspot ran an A/B test changing only the colour of the call to action button from red to green and the results were an amazing 21% difference!
You are probably thinking that green attained a higher conversion rate. Actually it was the opposite, red garnered a 21% greater conversion response.
A number of factors can influence a person's reaction to colour, such as: gender, culture and age.
Image Courtesy: assets.entrepreneur
Joe Hollock conducted a number of tests on a diverse cross section people of different ages, cultural backgrounds and genders and asked them a series of questions based on 10 colours (including black and white).
When asked which colour they associate with speed, 76% of the participants said red. This might have some impact on the Hubspot call to action button test explained above.
Colours play a significant role when forming a digital marketing strategy. Lets start by exploring the areas of your digital marketing strategy where you can make a visual impact that has the potential to affect your marketing and sales results.
As more businesses enter competition for customers online, a strong strategy is necessary in order to stay on top of current trends that put you in front of your target audience.
Colour in marketing can fundamentally change the way we view a brand or product. Understanding how this happens is crucial when designing the aesthetics for anything we are involved in.
Many businesses struggle when it comes to deciding on the design of logos, websites, fonts, and so on, and with good reason. Aesthetics are incredibly important to the average consumer, whether they realize it or not.
The look of your business can be the difference between a 'yes' or a 'no' when it comes to purchasing decisions, regardless of the quality of your product.
Therefore, we will explore the areas where colours are most necessary and effective for higher conversion rate:
Website
Your digital marketing strategy should be all about leading visitors back to your website — whether it's a B2B site, e-commerce site or other branded site. This goal makes having a visually attractive website — with an emphasis on your homepage — a step you can't overlook.
Image Courtesy: 3.bp.blogspot
Some of the most important elements to focus on in order to make a visual impact include:
• Homepage featured image: Make this image meaningful, impactful and relevant to the message you want to convey at first glance.
• Colours: The colours you use on your site should represent your brand and show consistency throughout your site. Colour can create an emotional reaction or connection to your message and should be carefully considered when designing your website.
• Simplicity: Less is more when leading website visitors to the next action you want them to take. Adding images and graphics can sometimes cause a busy look to your website. Keep it clean, simple and easy-to-navigate.
Blog
Blog articles published as educational pieces are not going away any time soon. Marketing research shows that 90% of consumers find custom content useful.
So, if internet users still seek blog-style written content when researching topics, where do visuals fit in with your blog?
Again, we come back to leading your readers to the "next step" through visuals. Relevant, well-placed and interesting visuals can guide your readers to take the next desired action. That action could be to read another blog post, go to your homepage or to click a CTA you've created.
Image Courtesy: colorlib
A smart visual approach on you blog should include:
• Consistent visual theme or format
How to do it: Depending on the blog platform you use, you may have pre-designed themes available to choose from; or you may choose to create a custom visual look for the blog if you have the design resources and budget.
The visual theme should support the brand you're building. It should also be consistent, meaning that when a reader comes to your blog, he/she should be able to recognize "you" (your business) in your blog your posts; they should be visually consistent and set up and formatted in a similar way.
• Videos
Where to use them: It's a great idea to publish original videos as stand alone blog posts or to embed curated or borrowed videos within your blog content to support points you're writing about. This is key because research predicts that 74% of all internet traffic in 2017 will be video.
• Original artwork or images
Original visual content, whether your own or borrowed from sites like Creative Commons or Unsplash, makes your brand more real and more approachable to visitors. Each blog post should contain a featured image that relates in some way to your blog topic.
Other images can be used throughout the post to support your content. Everyone can spot a cheesy, stock photo. In general, these make your brand seem unauthentic and unthoughtful.
Over the years, marketers have come to realize that colour alone can have a huge impact on the effectiveness of your design, with different colours having the power to evoke different feelings and emotions in people.
What do different colours say about your brand?
• Yellow is seen as a fun, optimistic colour. Interestingly, our eyes process yellow first before other colours, which is why it is often used on warning and road signs. This has seemingly made it popular with businesses often found on the roadside.
• Orange is seen as a friendly, confident colour. It is not commonly used.
• Red is seen as a reflection of power, excitement, and urgency. There are, however, distinct differences in how different cultures view the colour red. We'll discuss this later in the post.
• Purple is often used to reflect creativity and sophistication. It is also symbolic of royalty in many countries.
• Blue is linked with trust, honesty, and strength. It is often used by companies who want a reputation based primarily on professionalism. Research suggests that blue tends to be the favourite colour of both men and women.
• Green is used to emulate feelings and thoughts of peace or growth. It is typically used by wildlife and health related brands linked with the outdoors or keeping fit.
• Grey represents a calm or neutral feel. It is often used by brands wanting to project a clean, professional, or simple image, such as Apple.
Colour helps boost brand perception
Brand recognition can lead companies to succeed just as fast as the lack of brand recognition can lead to failure. An audience has a tendency to gain a sense of attachment to a particular brand based on visual perception alone.
Image Courtesy: ibimapublishing
According to a study conducted by Loyola University Maryland, colour increases brand recognition by over 80%. Selecting a specific colour or a colour scheme for your brand can contribute to a positive or negative reception from your audience.
Colours can make your brand seem intriguing, exciting, appealing, and an agent of goodness, just as it can make your brand seem pretentious, lackluster, greedy—or in some cases, even evil.
Colours are attached to universal color perception. Choosing the right colour schemes for your design is an important part of crafting a strong and effective brand image.
Consider conducting a study on what works best for your messaging rather than picking a random colour that is far detached from what you are trying to convey.
Since technology has changed it all, and never before has there been so many colors available, the ability to shape our mood with color is particularly true for a computer screen.
Colour attracts attention in terms of your digital marketing strategy
Simply put, colour demands attention. Recent studies show that black-and-white images sustain interest for less than two-thirds of a second, and coloured images hold attention for two seconds or more.
If you're not using colour as part of your strategy to stay in the minds of potential clients or consumers, you are missing out.
Successful companies are capitalizing on the opportunity that colour presents. One of the best examples of this is Apple's use of colour for the iMacs.
Apple brought colour into a marketplace where colour had not been seen before, famously coining the phrase, "It doesn't have to be beige."
The colorful iMacs reinvigorated a brand that had suffered over $1.8 billion of losses in two years prior to the product's launch.
Don't get me wrong. Not all attention brands get from colours will be positive. The wrong choice of colour can be a catastrophic failure for a brand.
Image Courtesy: 360nobs
In some cases, what is good for the purpose of catching attention doesn't directly translate to product or brand success.
An example of that is Heinz green ketchups. Though the chartreuse-coloured ketchup garnered hyped and captured people's attention, sales of the product plummeted after the first few months of its unveiling.
Colour can help emphasize or conceal information
Perhaps the most obvious example of how colour can emphasize and de-emphasize information is the manipulation of colour in fine prints.
It's not enough that fine prints are tiny; they are also typically coloured in gray scale to avoid catching the eye of readers. You wouldn't see fine prints coloured in vibrant hues unless they are perfectly camouflaged within the text.
Consequently, colours can affect your conversion rate. Highlighting fields and information with a striking colour can make a difference, just as much as colouring unwanted information as subtly as possible.
Colour helps you appeal to the right audience
Research shows that different colours appeal to different demographics. The colour spectrum that catches the eye of women is not the same spectrum that appeals to men. Similarly, children and adults react differently to specific colours.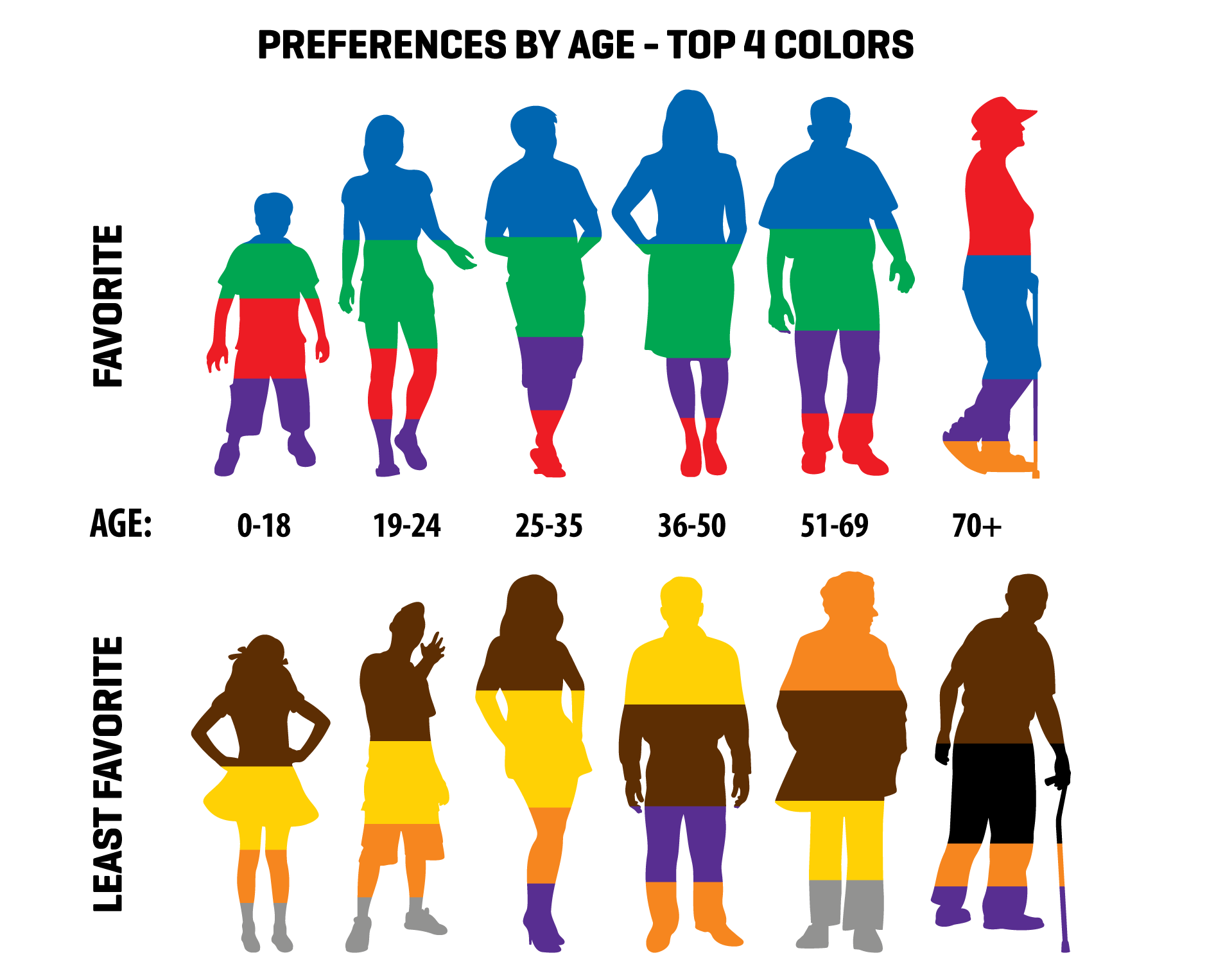 Image Courtesy: ilarge.lisimg
Designers must have a comprehensive understanding of the properties of colour, what they represent and to whom. Using colour schemes that appeal to the type of audience you are looking to target is an important part of effective design.
Colour helps the audience digest information better
Colour leaves a lasting impact on memory and perception. A study exploring the power of colour found that the use of colour can improve readership by 40%, learning from 55-78%, and comprehension by 73%. Colour makes up more than half of the information your audience takes in.
Colour as a tool for your digital marketing strategy
Colour is powerful because it can change our mood – the mood of potential customers. If a website improves our state of mind, our relationship with a brand will deepen and the probability of a return will increase. Advertisers and designers are well aware of that.
Image Courtesy: 3.bp.blogspot
We are not guided entirely by logic when making purchases. We tend to be driven by less identifiable factors such as emotions.
Finding the right choice of colours is an art because everyone interprets colours differently. Therefore, the trick is about an entire selection.
No colour scheme is ideal or universal. There is no best palette for a specific social or cultural group. We have to understand the meaning of colours so that they can support our message.
Colorful information affects the decision-making process with a surprising effectiveness.
Conclusion
Your business's visual identity is a critical part of your branding and digital marketing strategy. However, creating a visual impact on the web is more than just showcasing beautiful photos or striking images.
Your visuals need to tell your story, connect viewers to your brand and lead them to additional action and engagement with your business.
Whilst it can be broadly said that colours do tend to evoke certain emotions and thoughts, it is equally if not more important that the colours reflect the personality of your brand, not just your product.
Web users are constantly bombarded by brand images and marketing campaigns. The saturated web has become a place for synesthesia, capturing everyone's imagination and overloading the senses. That presents a challenge for designers and marketers alike.
How do you captivate your audience and stand out in a sea of infinite content?
One of the most important components of design that can help entities get noticed, blend in, convey the right message, or get lost in translation, is colour.
Understanding the way colour works and using it to your advantage can help keep you afloat in a saturated deluge of information and reach the right audience.
Out of the millions of products and services vying for the attention of a single user, colour applied right to a product or an entity can be a highly influential tool for marketing success.
Share with me some colours you have used to help boost sales and attract more traffic.
Daniel Obaike is an Entrepreneur who likes to help organizations 'WIN'. He is very passionate about assisting Organizations in Africa and other emerging economies boost revenue, achieve sustainable growth and enhance competition by utilizing Online Marketing.
Latest posts by Daniel Obaike (see all)